Block and Bridle
---
What is Block & Bridle? Here at WKU, we are one of the 92 chapters affiliated with the National Block & Bridle Club. Our goals at WKU are similar to the National Organization as we promote a higher scholastic standard and a more complete understanding of Animal Science among student members. We also promote animal agriculture through development of a program of activities that will supplement students' study of the animal sciences in colleges and universities. Block and Bridle strives to enhance professionalism of students who will one day be leaders in the animal agriculture industry and bring about a closer relationship among all students pursuing some phase of animal agriculture as a profession.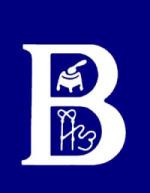 The Emblem: The emblem of the Block and Bridle Club is a large "B" with a meat block and cleaver in the upper half and a bridle in the lower half. This symbol is very significant to Block and Bridle Club members, as it represents the principles upon which our club is built. Character, sincerity, and a moral life are asked of members when they are initiated into the Block and Bridle Club. These attributes are depicted in the straight perpendicular of the "B." The distinct curves of the "B" are symbolic of social pleasure, mental energy, and the determination of Block and Bridle Club members. The meat block and cleaver inside the top half of the "B" represents the material aspects of our life and our profession. The bridle in the bottom half of the "B" stands for the behavior of Block and Bridle members, the control over ourselves that we try to maintain, the mannerisms and respect we show towards others, and the manner in which we treat our livestock.
Colors: Royal Purple and Navy Blue
Flower: Lilac
-All the above information is from the National Block and Bridle Club. For more information: www.blockandbridle.org
---
Some of the links on this page may require additional software to view.